Saturday 7th May 2022
I went wandering
I went out walking
Down that winding road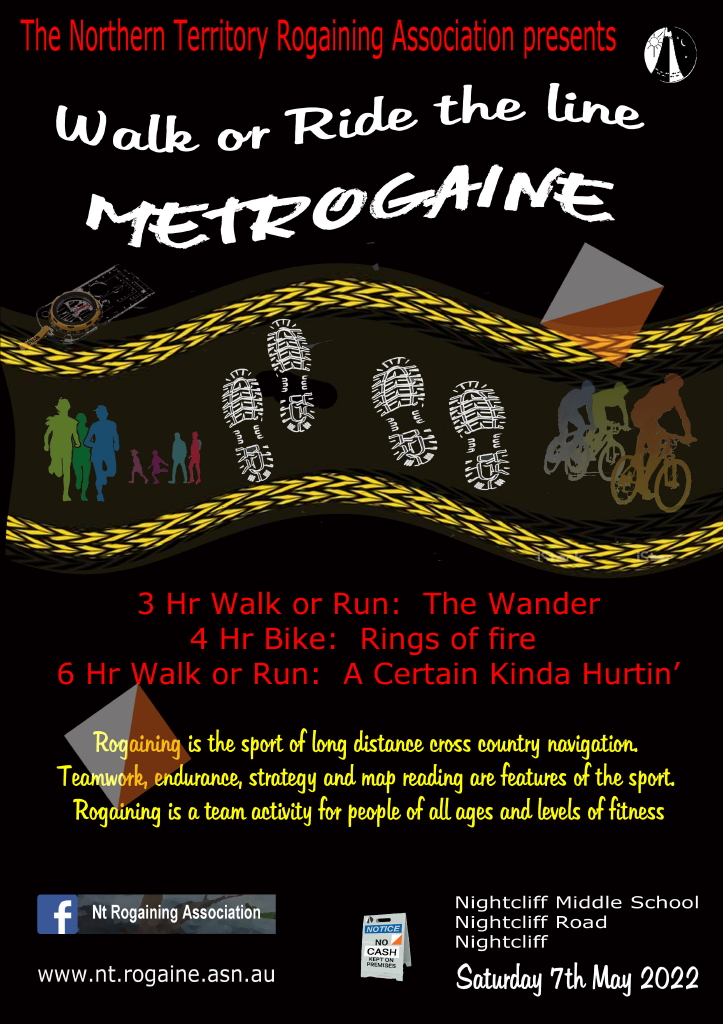 Johnny Cash would have been 90 years old this year. We commemorate The Man in Black...
This event is a metrogaine and uses the principles of rogaining in an urban and surrounding bush setting. Teamwork, strategic planning and map reading are features of the sport. Teams of 2 to 5 people choose which map checkpoints to visit within a designated time limit, with the intent of maximizing their score. It can be a wild walk, fun run or radical ride as teams plan their strategy and move through the course using the map provided. Great exercise for the body and the mind!
The "Walk Or Ride The Line" Metrogaine covers urban and bush environments around the suburbs of Nightcliff, Jingili, Tiwi and heading up towards Lee Point. Generally, it consists of easy terrain with roads and tracks to assist navigation, with a little bit of bush thrown in.
There are three events to choose from:
6 Hour A CERTAIN KINDA HURTIN' – WALK OR RUN
Johnny says you're not leavin' on a one way track. Life is rough so you gotta be tough. It's a pain he can't explain.
Maps out at 13:00. Event starts at 15:00, finishes at 21:00.
3 Hour THE WANDERER – WALK OR RUN
Just like Johnny, you could be walking through the streets paved with gold, under an atomic sky, passing by a thousand signs.
Maps out at 14:00. Event starts at 16:00, finishes at 19:00.
4 Hour RING OF FIRE – CYCLE
Burn, burn, burn some rubber as you pedal down, down, down the hills. The rings should be fiery and the flames should be high when you're ridin' down that ol' eight lane.
Maps out at 14:30. Event starts at 16:30, finishes at 20:30.
DINNER is included in your entry fee! Dinner will be served between 18:30 and 21:30.
HOW TO ENTER
The entry form is attached, or you can find it on the website at nt.rogaine.asn.au
Select your preferred event on the entry form. Complete all of the BLUE sections on the entry form.
BEFORE SUBMITTING YOUR ENTRY FORM – all team members must read and agree to the indemnity statement. This statement can be found on a separate tab on the Excel entry form.
Email your completed entry form to This email address is being protected from spambots. You need JavaScript enabled to view it.
PAYMENTS can be made via bank transfer as follows:
NT Rogaining Association
BSB = 065 901
Acct = 1055 9967
Ref = Surname WORTL
ALL ENTRIES for this event close at 11:00pm on Tuesday 3rd May 2022.