COOMALIE CHRISTMAS CONTOURS
SATURDAY 3rd DECEMBER 2022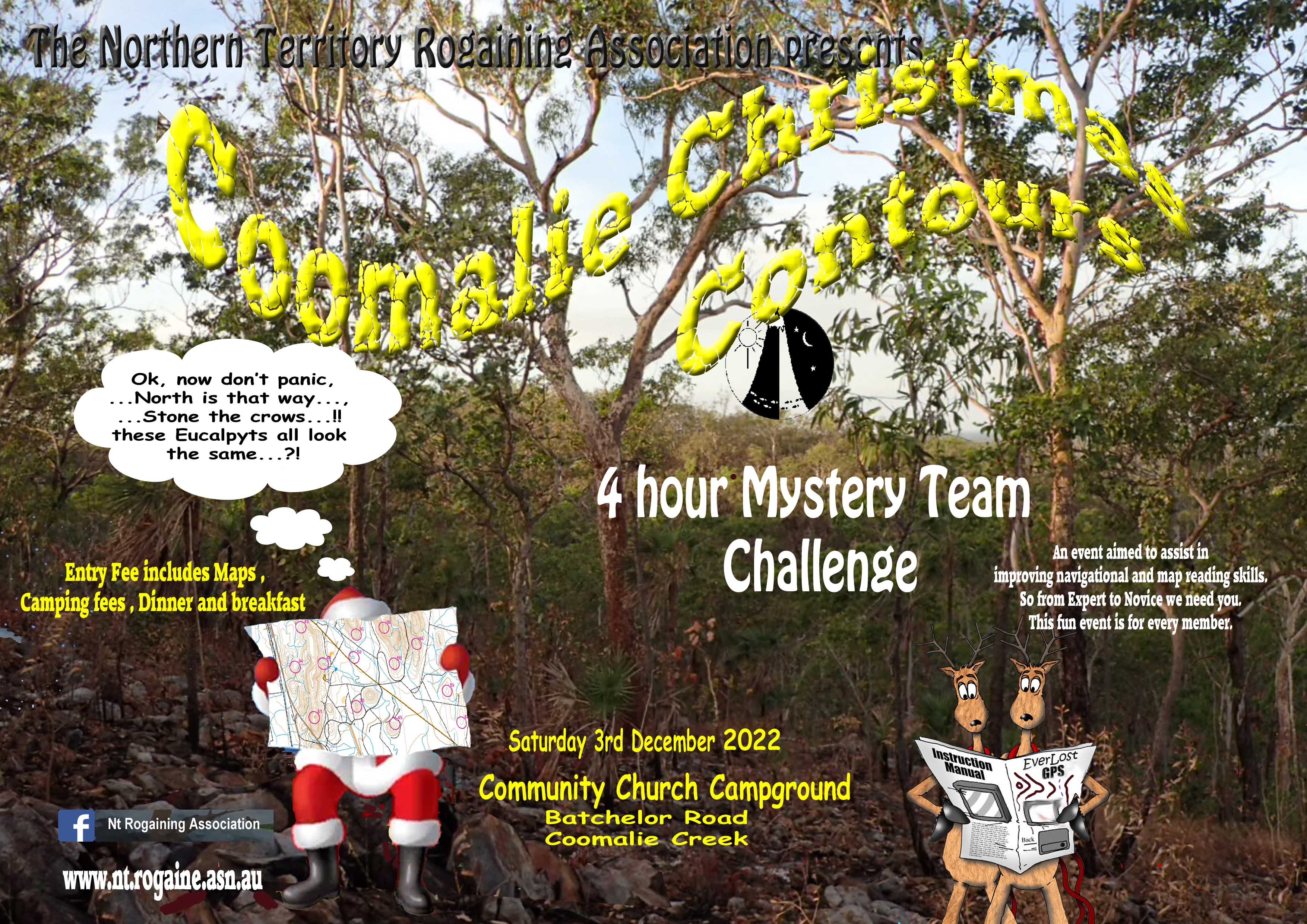 Community Church Campground (Batchelor Road, Coomalie Creek)
This event is about providing training and mentoring in navigation and map reading, in a supportive environment. Saturday arvo will be a fun, 4 hour rogaine where participants can practice compass use, navigation techniques and map-to-ground principles under the guidance of more experienced rogainers. Saturday evening - enjoy a Christmas themed dinner while the results from the rogaine are announced. Debrief about the day's events. Camp the night under the stars and wake up in the morning for an egg-n-bacon brekky. Keen participants can then put their skills to the test by retrieving the previous day's controls from the bush?!
Showers and toilets on site, grassy camping areas, undercover shade shed.
Limited numbers, get in quick! See entry form below. ENTRIES CLOSE ON TUESDAY 29th NOVEMBER!
RUNNING SHEET - SAT 3rd DEC:
9:00am Gates open if you would like to come down early to setup and relax.
12:00pm Welcome to the event, housekeeping, announcement of the "Mystery Teams".
12:30pm Maps handed out.
2:00pm EVENT OPEN. Teams can choose to start any time from now and must return to the Hash House within 4 hours of their start time. All teams must be back by 7:00pm at the latest, regardless of start time.
7:00pm EVENT CLOSED.
7:30pm Christmas dinner and dessert. Reading of the "Mystery Teams" rogaining results, handing out of prizes, Secret Santa.
What is Rogaining?
Rogaining is the sport of long distance cross country navigation. Teamwork, endurance, strategy and map reading are features of the sport. Rogaining is a team activity for people of all ages and levels of fitness, which aims to support and encourage people to develop respect for and enjoyment of rural and bushland environments, and to encourage the development of navigational skills, self reliance, general fitness, and the ability to work in a team.
About the NTRA
Rogaining found its way to the NT in 1999 (about a quarter of a century after the sport's invention in Victoria), courtesy of the energetic Andy Black and David Palmer who organised the first NT rogaine, the Croc and Rock, at Litchfield National Park in August of that year.
With their rogaining experience from southern states, Andy and David spent much of early 1999 battling Wet season humidity, flooded creeks, thick high grass and the almost totally unroaded bush of Litchfield National Park to set the course for what turned out to be an historic (and for many competitors very tough) 24 hour event.