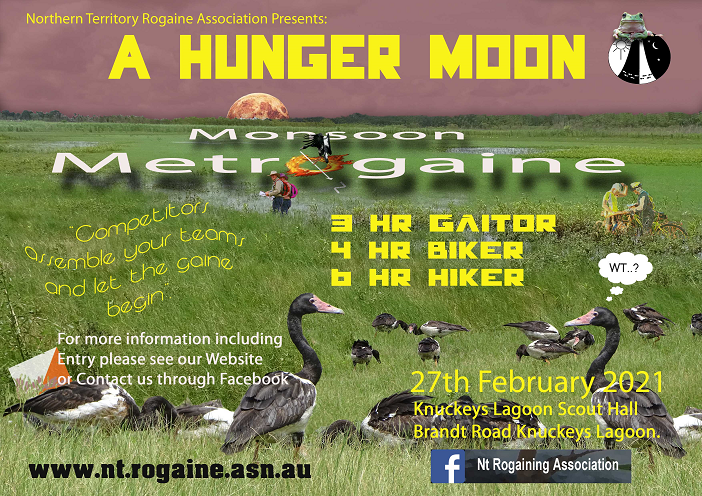 Saturday, 27 February 2021
A Hunger Moon Monsoon Metrogaine
This event is a metrogaine and uses the principles of rogaining in an urban setting. Teamwork, strategic planning and map reading are features of the sport.
Teams of 2 to 5 people choose which map checkpoints to visit within a designated time limit, with the intent of maximizing their score. It can be a wild walk, fun run or radical ride as teams plan their strategy and move through the course using the map provided. Great exercise for both the body and the mind!
A Hunger Moon Monsoon Metrogaine starts and finishes at the Knuckey Lagoon Scout Hall on Brandt Road. The event covers bush and urban environments around Karama, Holmes Jungle and surrounds, Micket Creek, Thorak, Pinelands, Berrimah, and of course Knuckey Lagoon.
Course setters have attempted to keep everyone on solid ground throughout their chosen event, using as much of the natural bush available whilst staying out of the mud wherever possible. Route choice will be the key to being efficient with time and aggregation of points. Control points will be a mix of multiple-choice questions and traditional hanging controls.
THREE events are on offer:
EVENT (1)
Walk or Run - 6 Hour HIKER
Get plucky with Knuckey because there are no shortcuts to any place worth going!
Maps out at 13:00. Teams will start at 15:00 and must be back by

21:00

.
EVENT (2)
Walk or Run - 3 Hour GAITER
A great event for families, or those preferring a more recreational rogaine.
Maps out at 13:30. Teams will start at 15:30 and must be back by

18:30

.
EVENT (3)
Cycle - 4 Hour BIKER
For all the cyclopaths out there! Put your peloton together and grease up your cranks.
Maps out at 14:30. Teams will start at 16:30 and must be back by

20:30

.
Our wonderful volunteer catering team will have a BBQ dinner, cold drinks, fruit and cake available at the Hash House (Knuckey Lagoon Scout Hall) between 18:00 and 21:30.
What you need to know:
The EXCEL Entry Form is below, or you can find it on the website at nt.rogaine.asn.au.
Select your preferred event on the Entry Form. Complete all of the BLUE sections on the Entry Form. Then email your completed form back to

This email address is being protected from spambots. You need JavaScript enabled to view it.

SAVE SOME BUCKS! Early Bird entries close at 11pm on Friday 19th February 2021.
All entries close at 11pm on Wednesday 24th February 2021.
Your entry fee includes a BBQ dinner and the costs of course setting, vetting, maps, insurance, safety equipment and administration.
If you cannot compete and still want to be part of this fun metrogaine event, we would love to have your help on the day / in the evening with administration and/or catering. Please contact us if you are available (see contact methods below).
If you have any questions about this event or about rogaining in general, please feel free to send us a message via email or our Facebook page (NT Rogaining Association). Additional information can also be found on our website.
This email address is being protected from spambots. You need JavaScript enabled to view it.
Looking forward to seeing you on Saturday 27th February 2021 for A Hunger Moon Monsoon Metrogaine.
HAPPY HUNGER GAMES . . . and may the odds be ever in your favour!