5th September 2020
In this year of isolation and restrictions, we have not had a lot to look forward to, but now we are pleased to announce an event to add straight to your diary!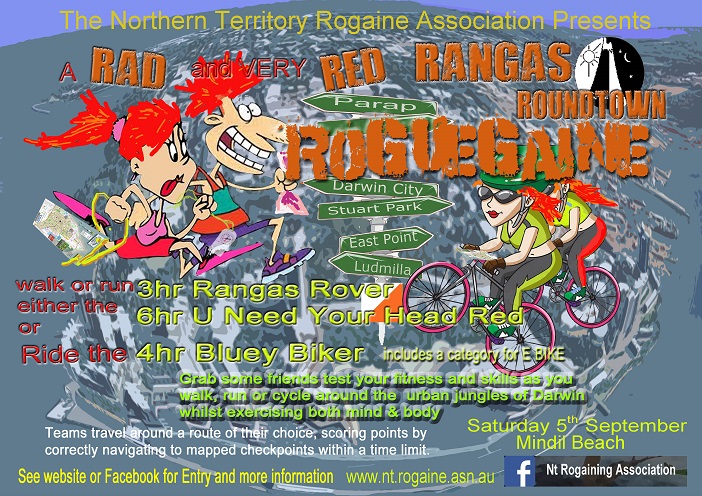 On September 5th 2020, the NTRA will be holding their second event of the year;
A Rad and very Red Rangas Roundtown Roguegaine!
Starting from Mindil Beach, the Metrogaine event will cover both bush and urban environments with the course spanning from East Point reserve through to the city, and out to Winnellie and Coconut Grove. There will be hanging controls as well as multiple-choice selections to find as you make your way around the course. You can do it on foot, walking or running, or on your bike or e-bike!
Choose from one of three events:
Walk or run the;

3 hour 'Rangas Rover',

OR

6 hour 'U need your head read',

OR

Ride the;
Metrogaines are sporting events based around the urban environment, in line with the guiding principle of Rogaining. Teamwork, strategic planning and map reading are features of the sport.
Teams of 2-5 people choose which checkpoints to visit within a time limit with the intent of maximizing their score. Call it a fun run, walk or ride, you and your team will move through the course using the map provided as determined by your team's strategy.
A great way to exercise both mind and body.
Entry fees include BBQ Dinner. More details to come shortly.