'Glee, Gulches & Gullies'
12-hour bush rogaine (with 6-hour roving)

When: Saturday, 18th June, 2016
Where: Litchfield National Park – Florence Falls Southern Escarpment
Time: 12 noon - 12 midnight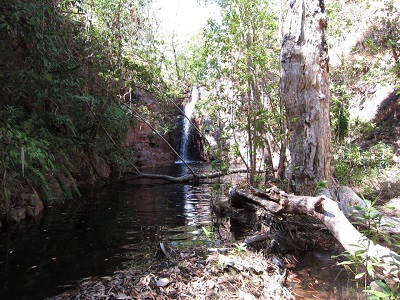 Join us for a 12hr bush rogaine and test your navigational skills as you traverse your way around the natural environments of Litchfield National Park. There will also be a 6 hour event within the event times from midday to midnight, more commonly known as a roving event. Competitors entering this event may come and go from the hash house but can only be on the course for a maximum of 6 hours.
The course setter, Jon Potter says:
"Terrain is Savannah woodland, escarpment country, sandy plains with some rock features in the deeper gullies and some easily traversable rain forest. The course has been planned to be of a user friendly nature with an easy route choice between all controls, regardless of the attack direction."
The hash house is a large area with plenty of shady trees to camp under and right on the edge of the course proper. There will still be creeks and waterfalls running in June.
This is a very doable event for all-comers, with good points available to even the least experienced as well as a challenge to the experienced at the extremities."
Entries now open, entries close 15th June 2016
What is Rogaining?
Rogaining is the sport of long distance cross country navigation. Teamwork, endurance, strategy and map reading are features of the sport. Rogaining is a team activity for people of all ages and levels of fitness, which aims to support and encourage people to develop respect for and enjoyment of rural and bushland environments, and to encourage the development of navigational skills, self reliance, general fitness, and the ability to work in a team.
About the NTRA
Rogaining found its way to the NT in 1999 (about a quarter of a century after the sport's invention in Victoria), courtesy of the energetic Andy Black and David Palmer who organised the first NT rogaine, the Croc and Rock, at Litchfield National Park in August of that year.
With their rogaining experience from southern states, Andy and David spent much of early 1999 battling Wet season humidity, flooded creeks, thick high grass and the almost totally unroaded bush of Litchfield National Park to set the course for what turned out to be an historic (and for many competitors very tough) 24 hour event.