'A RIdgydidge Rogaine'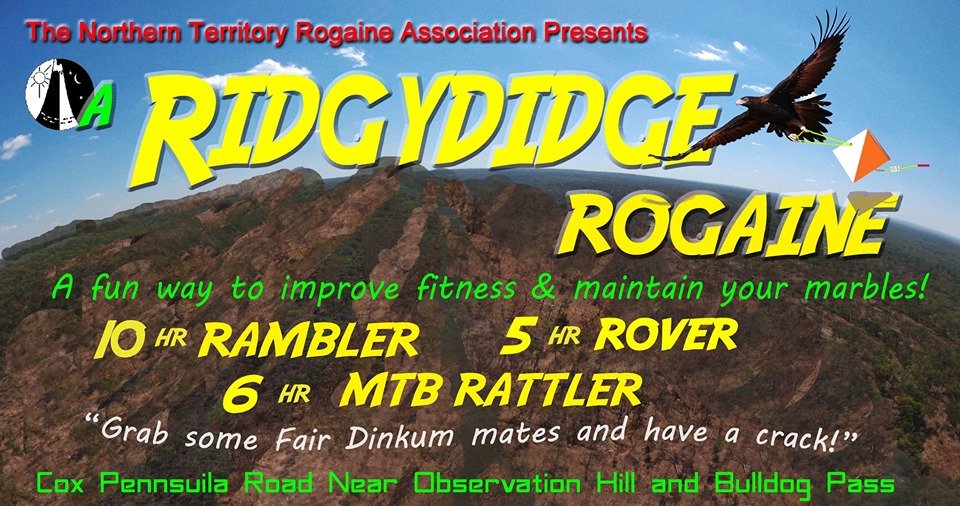 Saturday, 14 September 2019
Event will be located by an easy 1 hour drive from Darwin. Hash House will be accessible by 2wd.
Setting and Vetting is well under way, having reviewed the course we have elected to make the mountain bike event a bit longer to give MTB entrants a chance to explore the mapped area.
Maps out at 11:00am.
For the 10Hr Rambler or a 5Hr rover with a 13:00 start time, finish no later than 23:00 hrs.
If the deadly treadly is your favourite then with a 13:30 start time for 6 hour MTB Rattler, finish no later than 19:30 hrs
Entry forms attached. Entry fee includes evening meal, event maps and free camping.
What is Rogaining?
Rogaining is the sport of long distance cross country navigation. Teamwork, endurance, strategy and map reading are features of the sport. Rogaining is a team activity for people of all ages and levels of fitness, which aims to support and encourage people to develop respect for and enjoyment of rural and bushland environments, and to encourage the development of navigational skills, self reliance, general fitness, and the ability to work in a team.
About the NTRA
Rogaining found its way to the NT in 1999 (about a quarter of a century after the sport's invention in Victoria), courtesy of the energetic Andy Black and David Palmer who organised the first NT rogaine, the Croc and Rock, at Litchfield National Park in August of that year.
With their rogaining experience from southern states, Andy and David spent much of early 1999 battling Wet season humidity, flooded creeks, thick high grass and the almost totally unroaded bush of Litchfield National Park to set the course for what turned out to be an historic (and for many competitors very tough) 24 hour event.