Its a Christmas Cracker!
Saturday, 30 November 2019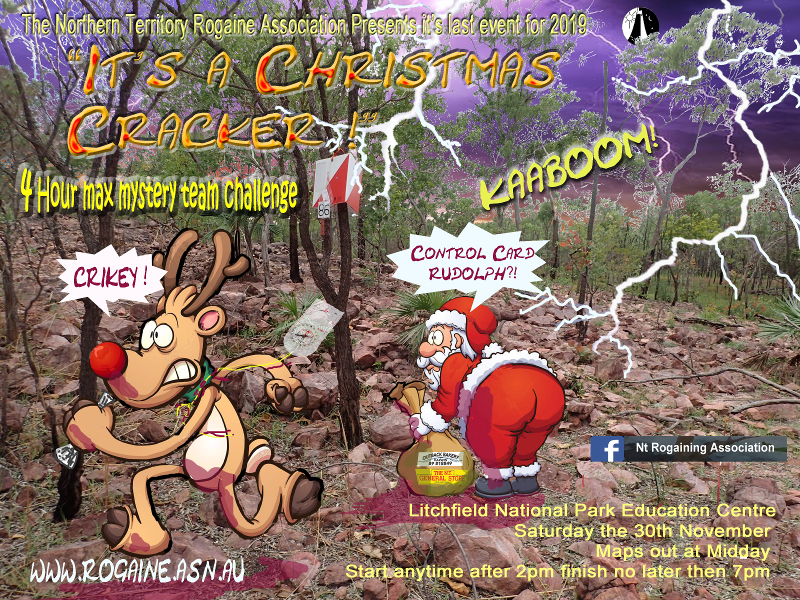 The last event for 2019 is going to be a 'Christmas Cracker Mystery Team Challenge' located at the Litchfield National Park Education Centre, at Bachelor.
A short 4 Hour Rogaine to finish the year off, which will be ideal for everyone ... including families. It's also a great opportunity to give Rogaining a go for the first time and see what its all about.
The terrain will include inviting rocky pools, a few spurs, saddles, creek bends and some knolls. Terrain variation will be up to 40-50 metres, and it will give a person looking to improve their skills a point in the right direction. It will also give the more experienced person a chance to share some knowledge. You can treat this event as a training run or a challenge, it's entirely up to you!

Teams will be put together on the day using a mystery draw. There will be prizes for the best team, amongst other awards for achievements on the day.
Maps will handed out at midday.
The start time can be anytime after 2pm, but the finish time must be no later than 7pm (sunset). Total time on the course is 4 hours (max).
The Education Centre venue is fully facilitated, with showers, toilets, and a large undercover area, and it also boasts a swimable waterhole with a nearby secluded waterfall. Camping is free, dinner and breakfast will be provided, and there will be a secret Santa ... amongst other things.
Entry form attached. Please save the date / weekend.
What is Rogaining?
Rogaining is the sport of long distance cross country navigation. Teamwork, endurance, strategy and map reading are features of the sport. Rogaining is a team activity for people of all ages and levels of fitness, which aims to support and encourage people to develop respect for and enjoyment of rural and bushland environments, and to encourage the development of navigational skills, self reliance, general fitness, and the ability to work in a team.
About the NTRA
Rogaining found its way to the NT in 1999 (about a quarter of a century after the sport's invention in Victoria), courtesy of the energetic Andy Black and David Palmer who organised the first NT rogaine, the Croc and Rock, at Litchfield National Park in August of that year.
With their rogaining experience from southern states, Andy and David spent much of early 1999 battling Wet season humidity, flooded creeks, thick high grass and the almost totally unroaded bush of Litchfield National Park to set the course for what turned out to be an historic (and for many competitors very tough) 24 hour event.