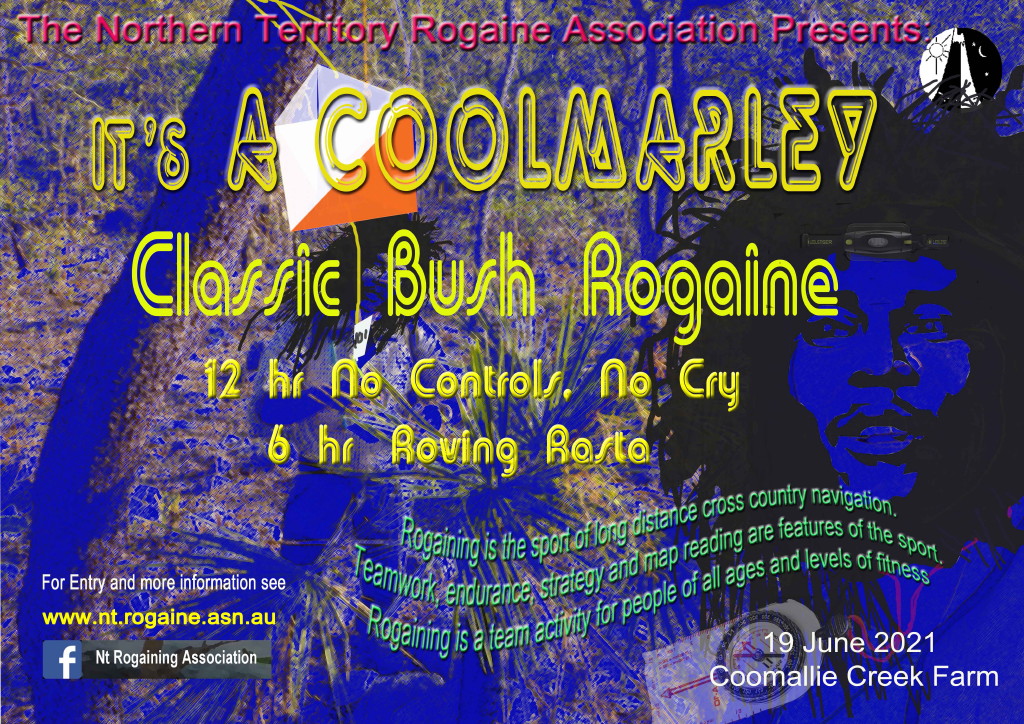 ARE YOU READY TO GET YOUR ROGAINE REGGAE ON?!
This event is a CLASSIC BUSH ROGAINE set in the historic Coomalie Region, about an hour south of Darwin. The objective of the rogaine is to amass the highest score by finding checkpoints in the bush within a set time limit.
Teams of two to five members travel entirely on foot, navigating with the aid of a topographic map and handheld compass. Teams select their own order of visiting checkpoints, in varied terrain. The classic rogaine includes both day and night navigation. Teams can return to the Hash House for rest, food and socialising as often as they wish.
The Hash House for the Coolmarley Classic Bush Rogaine is located at Coomalie Creek Farm (along the road to the Coomalie Landing Ground, just south of the Bachelor turn-off).
Choose from two events:
12 Hour NO CONTROLS NO CRY
The north and south and east and west, so you better look your best! Tuck those dreadlocks into your Rasta cap and get set for the long haul, because this event runs midday to midnight. Everything's gonna be all right, mon!
6 Hour ROVING RASTA
Rack up a maximum of 6 hours on the course, anytime within the midday to midnight window. Then chill out, enjoy some red, red wine, and don't worry 'bout a thing! Keep calm and love rogaine, mon!
Maps out from 9:00am. Free camping on site. Dinner and breakfast included in your entry fee! PRIZE for the best dreadlocks!!!!
HOW TO ENTER
1. The Entry Form is below.
2. Select your preferred event on the Entry Form. Complete all of the BLUE sections on the Entry Form. Then email your completed form back to This email address is being protected from spambots. You need JavaScript enabled to view it..
3. ALL ENTRIES for this event close at 11:00pm on Tuesday 15th June 2021.
NEED A PARTNER?
We can help! Let us know which event you would like to do, your age / fitness level and how experienced you are with navigation. Please also include a demo tape of your reggae singing and dancing abilities. (Okay, just kidding on that last one)!