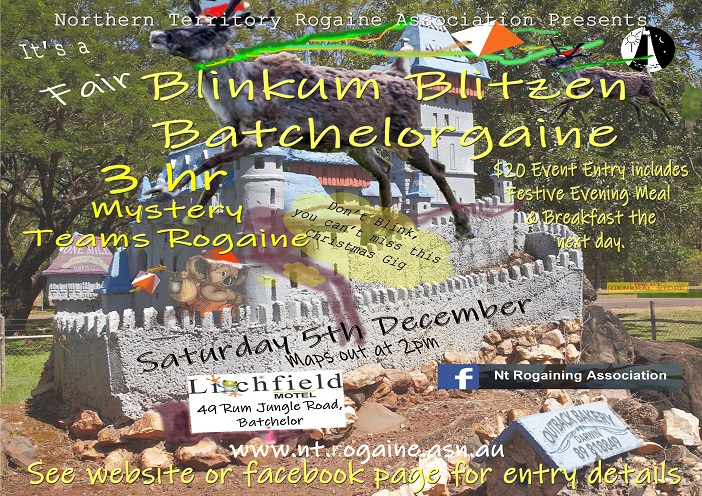 Saturday, 5 December 2020
HO HO HO and Deck the Halls!
Christmas is fast approaching and so is the NT Rogaining Association's annual Christmas Bash!
This is a fun 3 HOUR navigational event for everyone, with controls located around the Batchelor township and within surrounding bushland. Those who are experienced and have good navigational skills will be partnered up with others seeking assistance with their navigation and map reading. Current skill level and enthusiasm will be taken into account when matching people up. (You will indicate your current skill level on the Entry Form, see below).
The HASH HOUSE is located in the grounds of the Litchfield Motel in Batchelor. This is where the event will kick off. Chairs and tables are available.
| | |
| --- | --- |
| When: | Saturday 5th December (starting at 1:30pm) |
| Where: | Litchfield Motel, 49 Rum Jungle Road, Batchelor |
| What: | 3 hour "Mystery Teams" Rogaine |
| Cost: | Entry Fee is $20 per person (children under 15 years are free) |
Completed entry forms can be returned to: This email address is being protected from spambots. You need JavaScript enabled to view it.
Looking forward to seeing you in Batchelor!
Running Sheet:
1:30 pm
Welcome to the event, housekeeping, announcement of the "Mystery Teams".
2:00 pm
Maps handed out. EVENT OPEN
Teams can choose to start any time from now and must return to the Hash House within 3 hours of their start time. There are point penalties for teams who do not return within 3 hours. ALL teams must be back by 7:00pm at the latest, regardless of start time.
7:00 pm
EVENT CLOSED
There are point penalties for teams returning after this time. Disqualification if not back by 7:30pm!
7:30 pm
Roast carvery dinner / dessert in the Function Room, reading of the results, handing out of prizes, Secret Santa. Bevies!
More Info:
Your ENTRY FEE includes entry to the event, maps, insurance, carvery roast dinner / dessert and bacon / egg breakfast the next day. ENTRY FEES MUST BE PAID IN FULL by Tuesday 24th November to secure your spot.

DINNER will be held in the Function Room and is a carvery roast buffet including dessert.
What about the DRINKS?! You can BYO grog for consumption in the campground / motel rooms. NTRA will supply some bottles of wine to have with dinner. Other drinks (beer, spirits, softies) can be purchased from the bar.
Are you taking part in this year's side-splitting SECRET SANTA SWAP & STEAL? If so, please bring along a wrapped present (maximum spend $15).
Sort out your sore head the next morning with a festive bacon-n-egg sanga for BREAKFAST. Tea and coffee (LOTS of coffee!) included. Please BYO chair, cup, plate, cutlery.
Wishing to enhance your weekend bush experience? Non-powered CAMP SITES are available at the Litchfield Motel. Toilet and shower facilities included. Cost is $10 per person (children under 15 years are free).
Prefer a bit of luxury? ROOMS can be booked at the Litchfield Motel at special NT locals rates. Just mention that you are part of the rogaining group and you will receive 15% off your room price! A Standard Double/Twin room is $119/night. A Superior Double/Twin room is $136/night. To make your booking, give the motel a call on 08 8976 0123. (You will need to pay a deposit to secure your booking).
There is a POOL - cool down before dinner or go for an early-morning dip – CROC SAFE!

There are LIMITED SPOTS available for this great annual event!
ENTRIES CLOSE on Tuesday 24th November (or earlier if all spots are filled).

To be part of this year's NTRA CHRISTMAS FESTIVITIES, please complete the attached entry form.
ONE FORM PER PERSON, please. Children under 15 years can be included on the same form as their supervising adult. Make sure you indicate your navigational prowess using the scale provided on the form. Also please make sure you circle Y or N for the questions about dinner and breakfast - this is essential for assisting us in determining numbers for catering.